Instruments get old and sometimes, accidents happen. If you need music instrument repair in Minerva, Carrollton, East Liverpool, Salem, and Canton, OH to correct an issue, bring your instrument to Minerva Music Center. We have the skills and equipment to repair most instruments, breathing new life into them. From rehairing bows to repadding keys, we handle all the essential repair services your instrument requires.
Stringed Instrument Repairs
Whatever the needs of your stringed instrument, come to us for expert repairs. We handle issues big and small, to ensure your strings sing beautifully the next time they're bowed or plucked. We specialize in rehairing violin, viola, cello or bass bows, including cleaning and polishing the bow and lubrication of the frog eyelet. We're experts when it comes to stringed instrument repair in Stark County, OH.
Woodwind Instrument Repair
Missing pads on your flute's keys? Problems fitting your clarinet pieces together? Our experts can quickly and thoroughly repair any woodwind instrument issues you're dealing with, to get your instrument back into harmony. Our repair and service abilities extend to double- and single-reed instruments, including pads, corks, springs, solders and bodywork.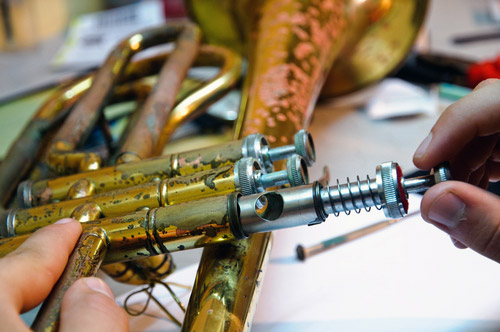 Brass Instrument Repair
Problems with airflow in your trumpet? Can't hit a note because of a bend in your trombone's slide? Come to us for repairs you can count on. We're familiar with the gamut of brass instruments and can repair major and minor damages thoroughly. Whether it's a simple valve lubrication issue or something bigger, we're intent on resolving your brass instrument's problem.
The Local Authority on Instrument Repairs
Minerva Music Center takes great pride in preserving the integrity of your instruments. Bring us your stringed, woodwind or brass instruments and let us assess the scope of the problem. We'll give it the attention it needs. Stop in today or contact us at 330-868-5708 for repairs, sales and rentals, and instrument lessons from our music instructors.
Any repairs that seem beyond our capabilities will receive expert consultation or out-sourced specialist attention with an expert within our industry-specific network.